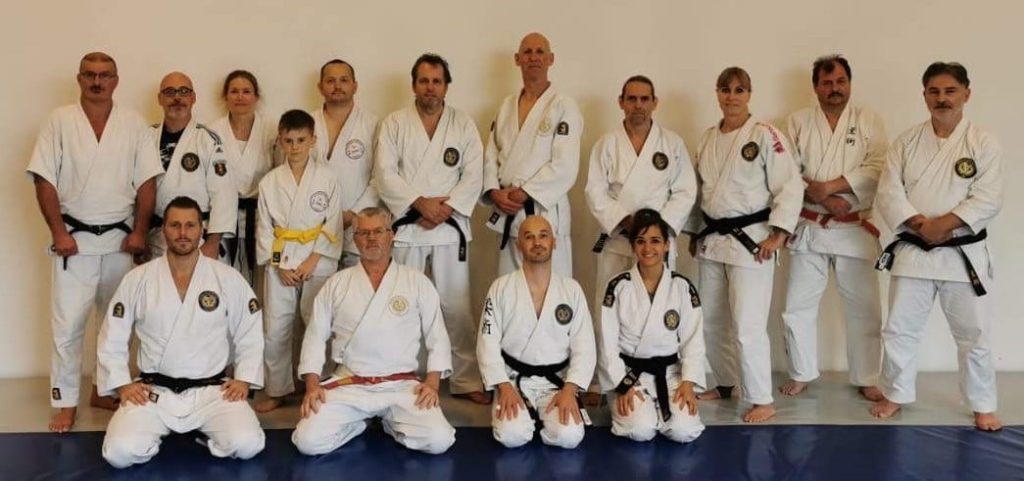 On Saturday 14-09-2019 a great Technical Seminar was held by SJJI in Waalwijk, the Netherlands.
A enthusiastic group of Ju-Jitsuka's from the Netherlands and Belgium participated in this 3 hour technical seminar with great joy.
The first block of two themes were given by Remko Dijkman Sensei (5th Dan SJJI);
Theme #2 : Hodoki-waza ( Liberation techniques )
Theme #4 : Nage-waza ( Throwing techniques )

Remko Sensei showed the ins and outs of the possibilities you have from various positions where you have been grabbed ( hold down ). This was combined with throws and sacrifice throws from a position where you were grabbed.
It was very nice to see/learn/experience how many possibilities there are from one situation.
The second part of the seminar was given by Tony van Venrooy Shihan (8th Dan SJJI);
Theme #7 : Renraku-waza ( indirect combinations )
Theme #8 ; Kaeshi-waza ( Take overs )

Tony Sensei started with the take overs and taught us about right moment to take over a technique.
To do this at the right moment you have to know the ins and outs of a technique.
If you know the technique you're "opponent" is trying/going to use and you recognize it you can feel the right moment to take it over.
This was a very technical part of the seminar and opened many minds on how to train techniques in a more efficient way. After this part we continued with indirect combinations which are very related to take overs and vice versa. The first part of this block, take overs, helped very much in making your indirect combinations in the right way / time and most efficiently.
Keep checking out our website and also our Facebook page for the next technical seminar.
So you can be a part of this great experience.
If you want to know more about Seishinkai Ju-Jitsu, register a Dojo with SJJI, our work together with us, please send us an email.
info@sjji.org